Why are handmade wall stickers so much better?
8th April 2014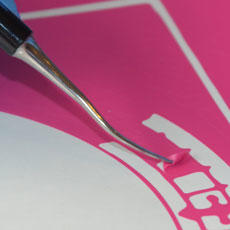 Each of our Big Ben Wall Stickers has over 260 pieces individually hand removed
Most vinyl wall stickers, like ours, are made of ultra thin adhesive vinyl that has had sections precision cut and removed by hand.
So when the vinyl sticker is applied to a flat surface – a wall, cupboard or window – via application tape, which is then removed, the end result looks almost like you have had it painted on, which reinforces the bespoke nature of the product.
Hand painted effect
When the vinyl is carefully squeegeed down, it really is so thin that it even takes on the texture of the paint below. Our matt vinyl is only 73 microns thin - that's seven hundredths of a millimetre!
We're proud that our wall sticker products are individually handmade in Britain
There are some decal wall sticker products on the market that aren't made to the same hand finished standard, but may look like they have been when seen in a product shot.
They will have been made by printing ink onto a sheet of clear plastic which is then stuck to a wall, often in different pieces. This won't give the same quality of finish and may well disappoint, so please make sure you always buy a quality product.