New Longer Hands for our Clocks
30th November 2014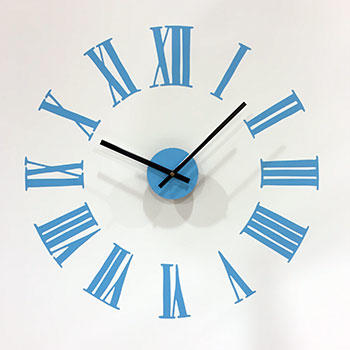 Recently, we upgraded our vinyl cutter to a larger cutting size. As well as cramping our workspace just a little more, this has enabled us to enlarge and simplify production of some of our products, which has been a great improvement.
We now are able to make our (now slightly larger) clocks in one single piece, which greatly simplifies installation for you!
A further recent change is the introduction of high-torque clock mechanisms which allow us to use longer clock hands with some of our designs.
The basic look of our unique clock centre remains unchanged, but our larger clocks now feature a 19cm minute hand and a slightly wider 15cm long hour hand.
The new look, launched yesterday at the Rokeby School Christmas Fair, was extremely well received. We will be updating all of our product photographs as we are able to, but in the meantime here is a shot of our ever popular Large Roman Numeral wall clock from yesterday.