It's always time for... a new design
13th January 2014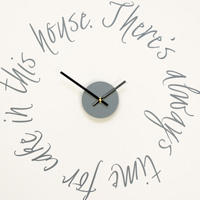 New range of clock wall stickers
We're really excited to launch our new range of wall clocks, featuring both numbers and words, in two different typeface styles, and available in our 30 matt vinyl colours.
These large clocks, measuring 55cm in diameter, feature fun phrases such as;
"There's always time for cake in this house", "Look at the time, it's already wine o'clock" and "It's always time for a cuppa in this house"
As well as a more traditional 'numbers' design. These clock wall stickers are a fun and entertaining way to display the time on any wall in the house, but particularly as a kitchen clock.
As always, they are supplied with a battery, complementary squeegee and full fitting instructions.