A Fair Day's Work
30th November 2013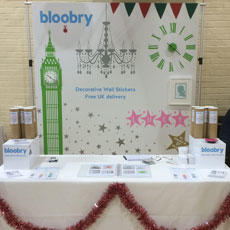 Well that was an early start for a Saturday morning!
We've just come home from doing our first Christmas Fair at Rokeby School in nearby Kingston. For the past few days we've been making sample products and sticking them to the new, large foamex panels (thank goodness- they eventually got to us in time)
Our dining room - currently adorned with the four big ben clock wall stickers you'll see around this website - has also played host to a mock up of our back drop and table. We've been printing colour charts and a catalogue too, checking and double checking the card payment system and trying to remember whatever we've forgotten. Thank goodness Lisa is an expert at Christmas Fairs (she's run a few as an active PTA member elsewhere in the past), and our 'Bloobry - Decorative Wall Stickers' backdrop made it there in the car, unscathed.
The school gym was beautifully decorated and with brilliant organisation all around, there was soon a merry throng of excited children and parents humming to the essential Christmas song loop!
We had an amazing reception - so many lovely comments, oohs and enquiries. Our sales list is pretty good too! We can't wait to make the clocks destined for Wimbledon, Dubai and the USA, and the various other orders - Names in Stars and Bunting stickers etc destined for bedroom walls.
We've got a couple more ideas for some new products as well, thanks to some good conversations. Thank you for a great day, and a superb reaction to our stand!